" I AM BEAUTIFUL BECAUSE I LOVE.
IF YOU WANT TO BE BEAUFIFUL, LOVE. "
25 MARCH 1985
" ' THE STORY BEHIND THIS, IS UNIQUE, ' I WENT ON, ' WHEN I FIRST SAW IT, OVERWHELMED BY ITS BEAUTY AND FELT THAT, REGARDLESS OF ITS ORIGIN,
IT WOULD BE MY IMAGE OF MARY AT MEDJUGORJE.
IN FACT, I PLAN TO USE IT ON THE COVER OF MY BOOK.
A NUN FROM THE VATICAN, ON PILGRIMAGE TO MEDJUGORJE,
HAD BEEN INVITED INTO THE APPARITION ROOM. DURING THE TIME OF VISITATION, SHE HAD TAKEN A PICTURE OF THE CRUCIFIX ON THE WALL ABOVE WHERE THE YOUNG VISIONARIES APPEARED TO BE LOOKING.
WHEN THE PHOTOGRAPH WAS DEVELOPED,
A CLOSE-UP OF A YOUNG WOMAN'S FACE APPEARED ON THE FILM.
KAREN HAD RECEIVED A COPY OF THIS PHOTO JUST BEFORE LEAVING FOR MEDJUGORJE HERSELF, AND AFTER IVAN'S TALK WITH HER GROUP SHE HAD A OPPORTUNITY TO ASK HIM IF IF LOOKED LIKE THE MADONNA. IVAN, LIKE THE OTHER VISIONARIES, WAS NORMALLY TURNED OFF BY SUCH REQUESTS CONCERNING PICTURES. HE GLANCED AT IT AND STARTED TO TURN AWAY---THEN TURNED BACK.
' YES, ' HE SAID SLOWLY, STUDYING THE PHOTOGRAPH, ' IT DOES LOOK LIKE HER. ' THEN HE SMILED. ' ONLY SHE IS EVEN MORE BEAUTIFUL ! '
PAGE : 300-301, FROM " MEDJUGORJE, THE MESSAGE " BY WAYNE WEIBLE
IN, OCTOBER 1985,
" I SUDDENLY FELT A STRONG MESSAGE FROM THE BLESSED VIRGIN MARY,
ASKING ME TO WRITE ABOUT THE EVENTS AT MEDJUGORJE.
SHE SPOKE TO MY HEART SAYING :
" YOU ARE MY SON, AND I AM ASKING YOU TO DO MY SON'S WILL.
WRITE ABOUT THESE EVENTS AND IF YOU CHOOSE,
THE SPREADING OF THE MESSAGES WILL BE YOUR LIFE'S MISSION. " "
MR. WAYNE WEIBLE GAVE 33 YEARS OF HIS LIFE TELLING THE WORLD ABOUT MEDJUGORJE.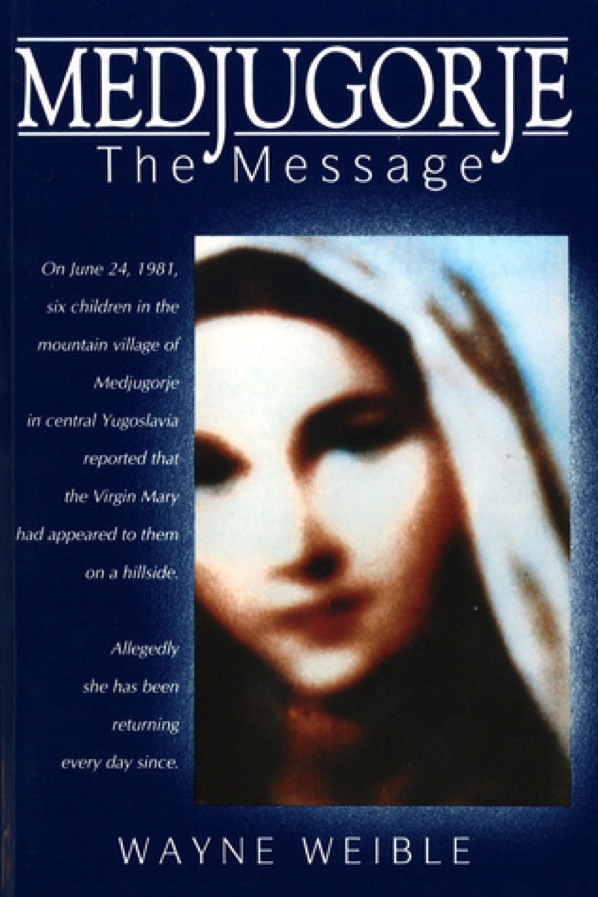 WAYNE WEIBLE'S BOOK HAS TOUCHED THE HEARTS OF MILLION'S AND MILLION'S AROUND THE WORLD
Often described as the most popular book on Medjugorje,
both in the United States and worldwide,
" MEDJUGORJE THE MESSAGE "
is known as the " BOOK OF CONVERSIONS ".
This book has a special anointing from Heaven on all who read it.
Not a day passes here in the office that someone doesn't contact me and tell me how this book changed their life.
Wayne takes the reader with him on pilgrimage to Medjugorje.
A journey that radically and permanently changes his life.
You will discover the apparitions of the Blessed Mother along with him.
As he chronicles the ways that the Virgin Mary continues to speak to the world today from Medjugorje.